Sell Scrap Silver
Let's talk about how to sell scrap silver. Most of us have unused silver we have inherited from parents or grandparents. This silver may be in the form of sterling silver sets, serving utensils, silver trays, silver coins, silver jewelry, or serving dishes.
Many of these sets of silverware may have stainless steel knife blades that need removed prior to selling. To sell silver flatware the dealer will have to remove any non-silver parts. This could be knife blades, clay fillers in handles, and sand in candlestick bases.
You may also have old silver coins that are worth much more than face value since silver has skyrocketed in value. Silver reserves have been depleted in the U.S.A. This means your old silver has suddenly became a saleable asset. Click to learn more about Selling Silver Coins.

How much will you get when you sell your scrap silver? First check the spot price of silver below: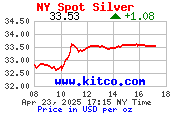 Be careful where you sell your silver. You should receive a price of approximately 60% to 70% of the spot price multiplied by the percentage of purity of your silver. Most older silver coins are 90% silver. Some silver bullion coins like silver eagles are .999% pure silver. Your sterling silver is approximately 92.5% silver.

Some Mexican silver can run lower in purity. There are also many items that appear to be silver but are made of metal combinations to resemble silver with a light silver plate on the surface. There are also many plated silver items that are virtually worthless, except for their use as a utensil.

Unfortunately, your silverware isn't worth a lot except as scrap. Few families really care about using silver at the Holidays anymore. Since stainless utensils became popular almost no one uses silver. If you have an ornate antique pattern of silver it may be worth something to an antique dealer.

Most gold and silver buyers will have to test your silver items to make sure they are real. They will test silver with an acid test.

To get the best price when you're selling your unwanted silver, or scrap silver, sell it to an Honest Gold Buyer. The Honest Gold Guy of Sarasota buys all types of silver.
There are two ways to meet with me when selling your silver. You can call me for an in office visit, or if you have special circumstances you can call me for an in home visit.
You may also like this article on Garage Sale finds
Don't worry about how to sell scrap silver, silver jewelry, silver coins, or heirloom silver. Call the Honest Gold Guy of Sarasota at 941-915-2978. I work Monday - through Saturday By appointment only.

Sunday - By appointment after 2 p.m.

Please call 941-915-2978 to make an appointment.

I'll be happy to give you a free appraisal on any silver you're thinking of selling. Dig out your forgotten silver, it's worth some money.

If you're ready to sell scrap silver, I currently serve these local markets: Sarasota, Osprey, Nokomis, Venice, Lakewood ranch, University Park, Bradenton, Palmetto, Gulfport, Siesta Key, Longboat Key, St. Petersburg, Wauchula, Ellenton, and many other rural Tampa Bay Florida locations.

The Honest Gold Guy of Sarasota
3575 Webber Street, Suite 103
Sarasota, FL 34239
Ph 941-915-2978

My office is at the intersection of Webber Street, and Beneva Road. Right behind the Goodwill Donation Center, and next door to West Coast Accounting.

Sell Scrap Silver Page Updated 09/29/2012

Leave Sell Scrap Silver & Return to Home Page